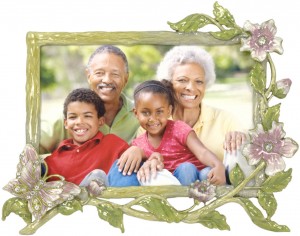 May is the month for celebrating mothers. Your mother, mother-in-law, grandmother or someone who is like a mother to you all deserve special recognition for all they do. We are pleased to offer an assortment of picture frames that will convey to your mother how special you think she is.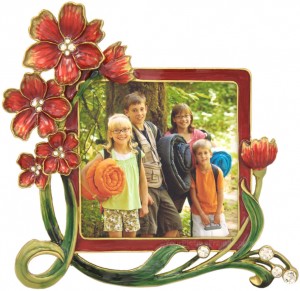 Flowers are always in order and with our selection of beautiful flower picture frames, you are sure to find the perfect one to match your mother's personality. Unique and colorful, our Outrageous Red Flower Picture Frame is hard to beat. Free floating red enamel painted flowers on rich green stems, both accented with jewels, hold a narrow square red picture frame; the perfect gift for a special mom. Woodlands Jeweled Picture Frame has soft green leaves and stems supporting beautiful pink and cream color flowers all beautiful painted enamel. A butterfly rests in one corner mimicking the color of the flowers. Make mom's day very special with our Green Corsage Round Picture Frame. The cluster of beautifully enamel painted flowers and clear jewels hugs the curves of this round frame while the stem design trim in gold and jewels comes full circle for a corsage that will last for years.
Etched words and sentiments can add a wonderful touch to a simply designed picture frame. We have a selection of brushed silver frames that would make perfect Mother's Day gifts. For the grandmothers in your life, our Brushed Silver Grandmother Picture Frame with Inscription has a wonderful sentiment – "When a baby is born, so is a grandmother." Inscription is at the wide bottom border. "Grandchildren Are the Best" is inscribed at the lower edge of our Brushed Silver Grandchildren Picture Frame. Something mom will love is a picture frame to hold a picture of her and her child having fun together, with the inscription "Me and My Mommy" across the bottom border.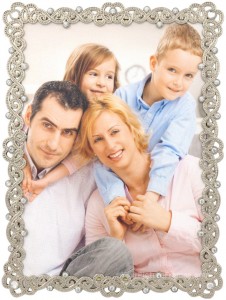 So many beautiful frames make wonderful, thoughtful gifts for any mother in your life. A beautiful gift for any occasion is our Scrolling Beauty Jeweled Picture Frame. This narrow frame with scrolling bands of silver studded with jewels creates a delicate open weave design. Create a distinctive gift using memorabilia and photos from a special trip you took with your mother, or let your mother create her own display with our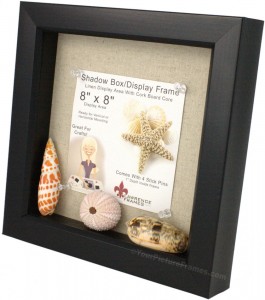 Black Square Shadowbox Picture Frame with Linen Display.
Mother's Day or any time of the year is a great time to recognize and show your appreciation for a mother in your life with the everlasting gift of a beautiful picture frame.