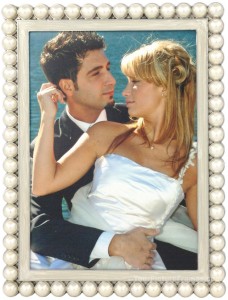 June is here so it's time to celebrate Pearls as this month's birthstone!
Large or small pearls, bright or subdued, pearls are always a classy choice to show off a great photo. Pearls are sophistication personified and can lend a touch of elegance to even the most simple photo display.
Our Tahitian Pearl picture frames are bold and beautiful featuring single large white pearls in either a round or oval shape. Here is the Tahitian Pearl Oval Picture Frame with its large faux pearls perfect for a special elegant photo.  This pearl photo frame comes in 3.5×5, 4×6 and 5×7 photo sizes so you'll be sure to find the size you need.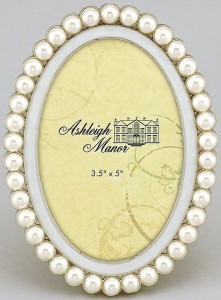 Our pearl picture frames came in a variety of shapes from rectangles, squares, ovals and round frames so you'll be sure to find a shape that's perfect for your special photo.

If you can't decide which shape picture frame you prefer, check out our set of 3 Small Pearl Picture Frames – one square, one round and one heart shape for a photo of that special someone.
While our frames with a single strand of pearls are bold, our frames with double and triple strands of pearls ooze sophistication, romance and elegance. When pearls seem to be the perfect choice for your framing needs but you don't want white, we have a solution for that too. Our gorgeous double strand pearl picture frame comes in either grey for subtle beauty as a Grey Double Strand of Pearls Picture Frame or pink pastel perfection as a Pink Double Strand Pearls Picture Frame.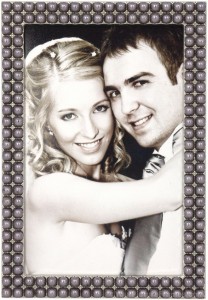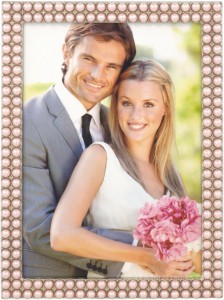 When your photo deserves the very best, just look to our beautiful selection of pearl picture frames. Whatever your mood or decor, you are sure to find the perfect frame.