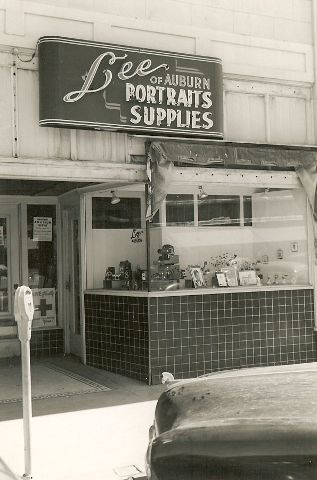 At YourPicturesFrames.com picture frames and photography have been a part of our family for over 60 years.
YourPictureFrames.com was inspired by my family's 64 year old photography and frame business originally called Lee of Auburn Photography. The business was started in 1945 by my grandparents, Howard and Katherine Lee.
Lee Photography started out as a photography studio and retail photo shop selling frames, cameras, photographic supplies and equipment.
The picture on the left shows the store at its first location in 1945 in downtown Auburn. You can see the early selection of frames in the window display. The business was at this location from 1945-1964.
Since 1964, the building shown in the picture below has been the home of Lee Photography. This is just a few doors down from its original location.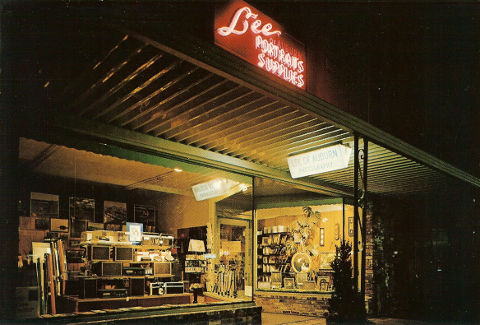 This photograph was taken about forty years ago as can be seen from the classic (and classy) neon sign.
During this period, Lee Photo carried cameras, picture frames and stereo equipment and continued its tradition of taking portraits and offering museum quality restoration services to protect and save people's precious memories.
Below are a few more old photos of Lee Photography showing how much style changed during the 1960's and 1970's.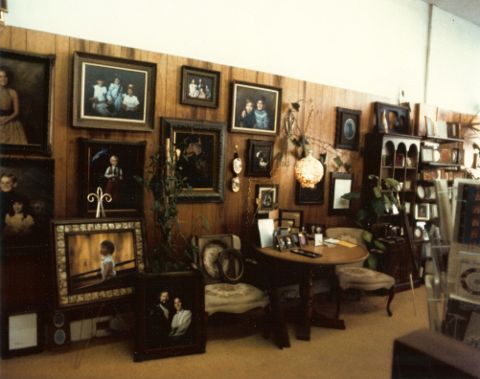 This picture on the left was Lee Photo at its new location in the mid-1960's.
Here you can see some of the classic 1960's picture frames with wood molding and fascinating insets like tile or velvet.
In the 1960's the business was heavily focused on portraiture, frames and photo restoration as few photography stores had the expertise and skill to restore old pictures.
In 1972, my parents Byron and Corinne Lee bought the store and continued the family tradition of selling quality cameras, frames and photographic supplies.
Here are two pictures of Lee Photo during the 1970's. Make sure to check out the psychedelic green carpet, classic orange Kodak lamps and the Polaroid sign.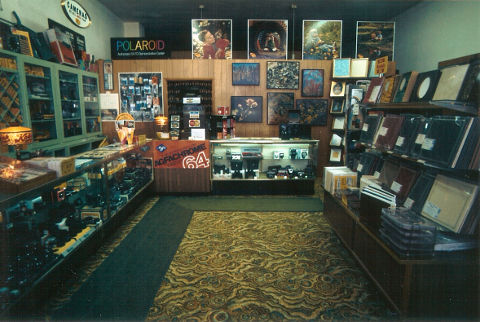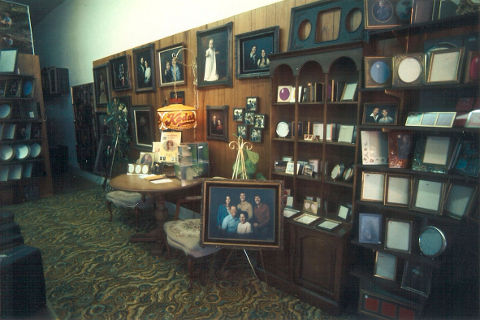 My brother and I spent a lot of time helping out at the store while we were young. I have lots of fond memories of helping to sell, dust and inventory frames as a kid. Here is one "classic" Christmas card picture from the 1980's at the store.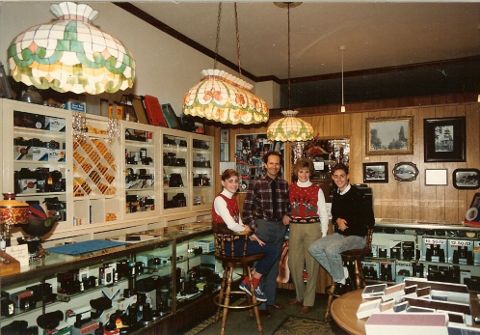 Now Lee Photo is in its third generation. In 2004 my brother Jason and his wife Erin purchased Lee Photo from my parents. Lee Photo now focuses on wedding and portrait photography as well as digital photo restoration services.
Inspired by my family's history in the photography business paired with my love for unique and high quality picture frames, my husband and I decided to create a dynamic new frame business online. We partnered with my parents to create YourPictureFrames.com where we offer a large selection of unique, high quality picture frames to fit anyone's personal style.
And in following three generations of family tradition, YourPicturesFrames.com delivers excellent customer service and premium picture frames that you'll enjoy for years to come.