Today, it snowed 7-12 inches in Auburn- the first time in in over 50+ years! The snow fell overnight so we all woke up to a winter wonderland. The thick blanket of snow covered everything so it seemed the perfect time to take some photos. And what better time to take some photos of our new white picture frames!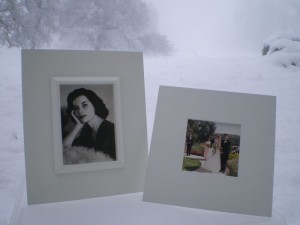 These two white picture frames are called seamless frames because they're made out of composite wood so the face is completely smooth. They come in a variety of sizes and make great frames for displaying on a table top or hanging on the wall. The bright white painted finish makes a stunning statement no matter where you display them. The frame on the left has a raised white border which gives the frame a more formal look while the frame on the right has a flat front giving it a modern look. If you'd like to look at each frame more closely, you can check out our white picture frame section on our website now.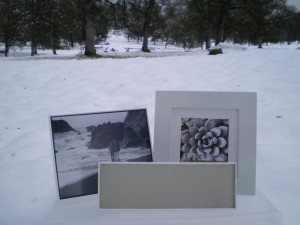 This trio of white picture frames consists of  a white wood picture frame and two white metal picture frames. The white wood picture frame is made out of a single piece of composite wood so the front of the frame is completely smooth with no joints. This white frame comes with an acid-free white mat (with white core) so your picture will look great. This frame is available in 4 other colors and comes in a variety of sizes. You can find more details on this white wood picture frame on our website.
The other two new white picture frames (shown on the left and front) are made by Framatic with their patented easy-to-use metal frame joining system. These metal photo frames are called "Fineline" and are popular among photographers and artists because of their narrow 1/8″ aluminum molding. These frames are also popular among professionals because of their easy to use patented "framlok" joining system.
Here is a picture of the back of a Fineline frame so you can see there patented, easy to use system.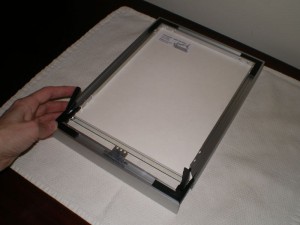 All you do is lift the plastic tags on each side and then slide the top of the frame off with both hands. Then you're free to slide in your image and then slide the top of the frame back on. It's super easy and can be done in less than a minute. This is fantastic- especially if you've ever had to put together a metal frame, you'll be amazed at how easy this one is to use.
These high quality, sturdy metal frames are also available in both standard and custom frame sizes and come in either white, black or silver. The 8×10 horizontal white metal frame in the previous picture can be purchased with our without an acid-free mat so you can customize your photo however you choose.  The panoramic white picture frame, on the other hand isn't available with a mat but comes in both 4×10 and 4×12.
That's it for our snowy white picture frame fun…now it's time to take a quick break and enjoy the snow before it completely melts