We're excited to announce the new line of Ashleigh Manor Spring Frames. With almost 40 new frames to choose from we'll highlight some of our favorite new ones.
These jeweled beauties will brighten up any room with their sparkle and decorative charm. With so many beautiful new ones to choose from, here is a small sampling of the new jeweled picture frames. The frames displayed here are Green Chards Jeweled Picture Frame, Pewter Beaded Circles Jeweled Picture Frame and Crowning Glory Jeweled Picture Frame. The second set of jeweled frames are:  Clear Pointed Jeweled Picture Frame, Baubles Clear Jeweled Picture Frame and Gold Swirl Jeweled Picture Frame.
Decorative round picture frames are such a nice compliment to rounding out any photo display and these jeweled frames will add a beautiful look to your home decor. These gorgeous faux crystals will give your photo a look of elegant distinction. The round frames displayed below are: Facets Round Jeweled Picture Frame, Gemstones Jeweled Picture Frame Trio and Diamonds Round Jeweled Picture Frame.
New Flower Picture Frames
Their new flower picture frames are bright and cherry and remind us of the beauty of spring. All of these flower picture frames are designed for table top display and are made of pewter with a beautiful enamel finish and highlighted with gorgeous faux crystals. The flower picture frames displayed below are: Morning Glories Jeweled Flower Picture Frame, Nancy Red Jeweled Flower Picture Frame and Sunburst Jeweled Flower Picture Frame.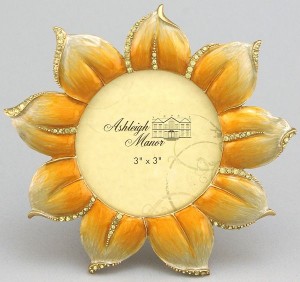 There are a lot more beautiful new Ashleigh Manor frames to browse through so we hope this has given you a good idea of all the different styles of new frames available.