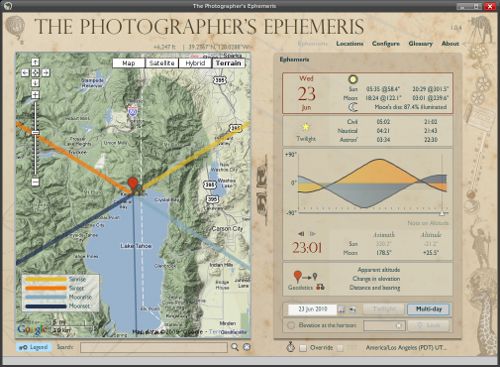 While installing Adobe Air applications I came across a wonderful and excellent software planning tool specifically designed to help landscape photographers make the most out of their outdoor photography adventures.  App designer and photographer Steven Trainor brings us The Photographer's Ephemeris.
What exactly is an "ephemeris"?
Simply put, it's a table or almanac that displays the position of heavenly bodies (sun and moon) for a given date. The Photographer's Ephemeris (TPE for short) includes position data for the sun and the moon, the time when both rise and set, as well as a graphical depiction of where they are in the sky at any time of the day. Plus, its all centered around a Google Maps interface, so the data and display adjusts to the latitude and longitude of any location on the planet.
Planning an adventure to Lake Tahoe next summer to do some hiking and photography? Or maybe Paris, or Australia? No problem… by knowing exactly where the sun will be at any time of the day, TPE can help you plan your photography trip down to the minute.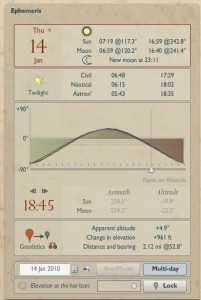 And star-gazers rejoice! TPE makes it super easy to find a moonless night (January 14th, 2010 looks good).  Plus one really cool feature shows the Astronomical twilight range on any given day.  That is the period of time where less bright deep sky objects like nebulae and galaxies may not be visible. So TPE helps you plan your astronomy and astro-photography adventures, too.
Steven has all the installation instructions and a nice set of tutorials over at the main TPE site. Head on over there and check it out for yourself!